Traditionally, what makes Creole "dirty rice" dirty is the addition of fowl gizzards. Um, no thanks. Chopped eggplant, a Louisiana crop, takes its place in this super-satisfying veggie version. Not spicy in itself, but you can make it that way. That's what Tabasco is for. Recipe contributed by Ellen Kanner. Photos by Hannah Kaminsky.
Dirty Rice, Vegan Style
Recipe type:
Rice main or side dish
Prep time:
Cook time:
Total time:
Chopped eggplant, a Louisiana crop, takes its place of traditional "dirty" ingredients in this super-satisfying veggie version.
Ingredients
1½ cups long-grain brown rice
32-ounce container low-sodium vegetable broth
1 bay leaf
1 tablespoon olive oil
6 cloves garlic, minced
1 large onion, finely chopped
1 medium eggplant, stemmed and diced
2 large celery stalks, diced
1 green pepper, finely diced
1 large tomato, diced
2 teaspoons sweet or smoked paprika
1 handful fresh thyme leaves (or 1 teaspoon dried)
Salt and freshly ground pepper to taste
Juice of ½ to 1 lemon, to taste
½ cup finely chopped fresh parsley
Tabasco or other hot sauce for passing around
Instructions
Pour 3 cups of the broth into a large saucepan. Place over high heat and bring liquid to boil. Add rice and bay leaf and give a quick stir. Cover and reduce heat to low and simmer for 30 minutes or until rice is tender and all liquid is absorbed. Remove bay leaf and set aside.
Meanwhile, heat the oil in a large skillet over medium-high heat. Add the garlic, onion, and eggplant. Sauté for 5 to 8 minutes, or until the vegetables soften a bit.
Add the celery, green pepper, tomato, paprika, and thyme. Continue cooking for 5 to 8 minutes longer, stirring occasionally, until the vegetables are soft but not overdone.
Stir in the cooked rice and remaining cup of broth. Reduce heat to medium and cook another 10 minutes until all the liquid is absorbed. The mixture should still be a bit moist, so if need be, add ½ to 1 cup water and allow to absorb a bit.
Stir in salt, pepper, lemon juice and parsley.
Serve at once; pass around Tabasco for spicing up individual servings. Keeps several days in the fridge, flavor improves over time.
3.3.3077
Variation: For a bright pop of color and protein, add 1 cup or more cooked edamame or green peas when adding the last ingredients.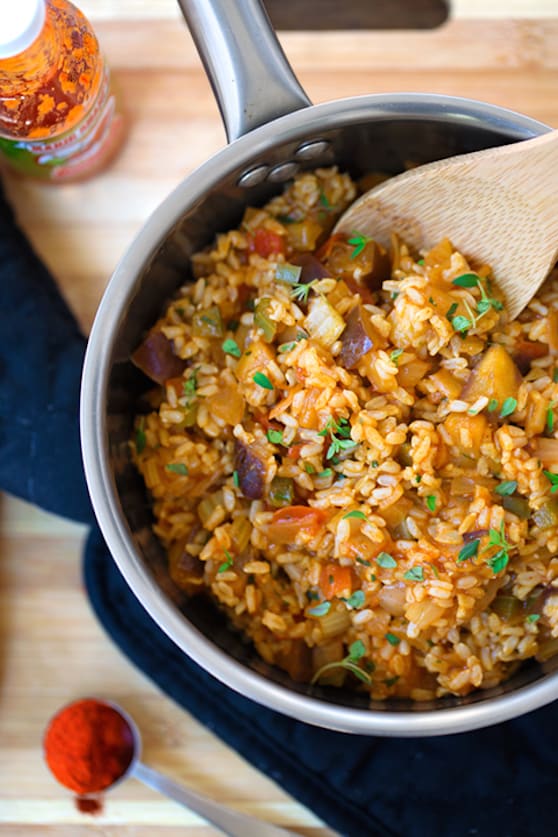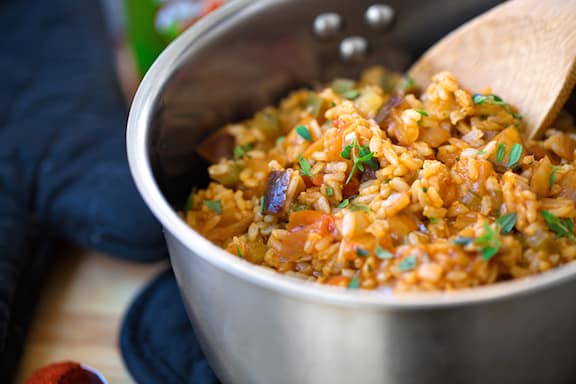 For more ways to use brown rice, explore

Classic Rice Dishes.

Here are more

Creole classics, veg style.
Ellen Kanner writes the Meatless Monday column for The Huffingon Post and is the Edgy Veggie, a syndicated column.